Reverend James A. Simmons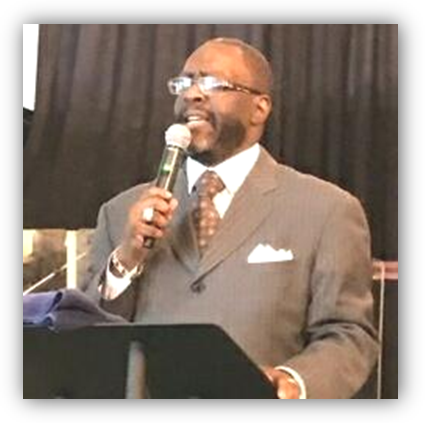 First Good Samaritan Baptist Church
Pastor Simmons was called by God to preach His Word in the spring of 1991.  He was licensed to preach on October 6, 1991, and ordained on July 6, 1996.  Immediately after being ordained, Pastor Simmons was called to pastor his first church at the early age of 25 years of age.
Pastor Simmons has earned his Bachelor's and Master's Degree from Richmond Virginia Seminary in Richmond, Virginia. He was conferred an Honorary Doctorate of Divinity in April of 2014 by Cornerstone Christian University.
However, Pastor Simmons is presently enrolled in the Doctoral Program of Virginia University of Lynchburg and scheduled to graduate May of 2019 with an earned Doctor of Ministry Degree. He is currently writing his dissertation on Transitioning the 21st Century African American Church from Membership to Discipleship.
As Pastor of First Good Samaritan, he is committed to "Making Disciples" as Jesus Christ commissioned us to do.  Pastor Simmons is determined to MAINTAIN the Great Commission of Jesus Christ instead of allowing the church to be DETAINED because it has allowed the Great Commission to be the Great Omission.
His teachings stress the strengthening of our relationship with Christ through discipleship which establishes the love we must have for one another.  It states in the gospel of John 13:34, 35 that, "A new commandment I give to you, that you love one another; as I have loved you, that you also love one another. By this all will know that you are My disciples, if you have love for one another." Pastor Simmons has instituted several new ministries and re-organized current ministries to move towards accomplishing all that the GREAT COMMISSION requires.
Pastor Simmons has began a ministry under the #Hashtag of  #Simmonssays.  This has been done through his twitter and Facebook accounts.  These "Simmonssays" sayings are mainly words of encouragement inspired by God's Word to encourage God's people while making disciples as well.   He has committed the First Good Samaritan Family to a Mission statement that is: Encouraging Disciples for Kingdom Building, Wholistic Living and Family Strengthening!
Presently, Pastor Simmons' affiliations include:
Facilitator and Teacher for the Mt. Bethel Educational Congress 2018
Member of Progressive National Baptist Convention, Inc.
In, 2012-13 was appointed and served as the Leader of the Ministers, Moderators and State Presidents Division of the Progressive National Baptist Convention Eastern Region [Serving Pastors, Moderators and Leaders from Maine to Florida].
Pastor Simmons is happily married to LaKeisha Marie [20 years], and they are the proud parents of 5 beautiful children:  Brittany and Brianna, Cydney, Madison and Mason who are affectionately called his starting 5.