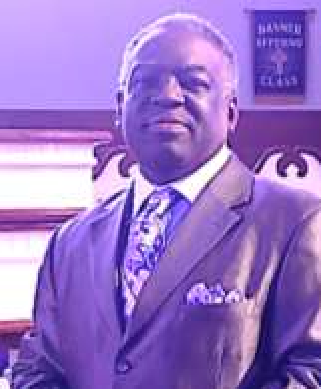 Corinthian Baptist Church
Bishop James L. Martin, Sr. is a native Washingtonian. He and his wife, Reverend Tawanda M. Martin, reside in Fort Washington, Maryland; they're the proud parents of seven children and the proud grandparents of nine. He was educated in the DC Public Schools System, and attended the Duke Ellington School of Performing Arts, Strayer Business College and the Wilbur H. Waters School of Religion and Theological Seminary. At Wilbur Waters, he received the Bachelor of Divinity degree in June 1990, the Masters of Divinity degree in June 1992, and the Doctor of Divinity degree in June 1995, graduating Summa Cum Laude.
Bishop Martin was delegated to the Progressive Baptist Convention in New Orleans, Louisiana in 1979. He was licensed to preach the Gospel in September 1986 and was ordained to the Gospel Ministry in October 1988. In 1996, he was recognized as an Outstanding Young Man of American; and in 2006, he was featured in the September/October edition of the Gospel Today magazine as one of the "50 Most Loved Pastors." In November 2006, he was named 1340 WYCB AM's "Pastor of the Week." In March 2016, he was honored at the Praise 104.1 Pastors Prayer Breakfast. Bishop Martin has functioned as an Associate Minister, Minister of Music, and Assistant Sunday School Superintendent at the Corinthian Baptist Church in Lanham, Maryland (formerly in Washington, DC), and is presently serving as Senior Pastor and Under-Shepherd.
Bishop Martin is a member of the Hampton Minister's Conference, the Baptist Ministers' Conference of Washington, DC and Vicinity, and the American Association of Christian Counselors. He is a certified Marriage Counselor and a certified Evangelical Teacher Trainer. On Friday, October 30, 2009, at his 11th Anniversary celebration, he was elevated to Bishop-Elect by Bishop Glen A. Staples, Presiding Prelate of the Temple of Praise Fellowship. On May 15, 2010, Bishop-Elect Martin was consecrated to Bishop in the Lord's Church by Bishop Glen A. Staples.
It is Bishop Martin's petition and aspiration that, "through the preaching of the Gospel self will decrease, God will increase, and the seat of religion will be relinquished for that of a relationship with the Lord, Jesus Christ." His motto is, "Just let me live my life and let it be pleasing, Lord, to thee. Should I gain any praise, let it go to Calvary…to God be the glory for the things He has done!"